After a month of hard work, Henrieke and me finished Willie Wasbeer, the new mascot of GaiaZoo in Kerkrade, Netherlands. As with every costume we make, there was a lot of new things we tried, such as padding for the legs made out of foam strips to allow good airflow, lasercut eyes and padded arms. Everything worked out perfectly, as you can see in the Video of Willie's first performance!
Here are some photos of the comic event "Vienna Comix" last weekend! Henrieke, me, Gerald, Luri, Lisa and Andy had a table again and Baseball showed up too!
Since it was the 20th anniversary and also the ever-popular Star Wars special with people coming from as far as Germany, it was very busy again.
When it finally calmed down a little, it was time for Baseball to get out and entertain people.
After fooling around a bit, Baseball went to the table and offered sketches to people which turned out to be quite popular!
Also, don't forget to visit the next Vienna Comix on 1st of December!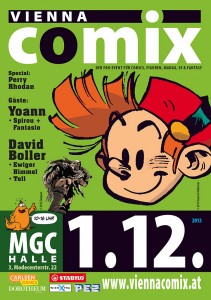 Our convention started late because of our missed flight and jetlag. We had lots of stress due to our lost luggage and the helpdesk not helping, but we still had a good time thanks to our awesome friends! An extra thank you for those who did so much to help us, you are fantastic! We eventually got our luggage back on the last day of the convention, but only because we picked it up ourselves, AirFrance would have happily kept us waiting for another night. But despite AirFrance being incredibly rude and unhelpful we still had a nice time at the con!
There was an educational panel with live animals, which was a good way to try out our brand new camera!
Lots of drawing was done! We met artists we've known for years and never got to meet yet!
And of course there were giant animals:
On the very last day of the con, two hours before it ended, we finally got our luggage back and immediately let Baseball out:
We also found this possum on the floor!
After all, the con was nice, we wish we had more time there and less jetlag and stress with AirFrance. We're still baffled by how nice everyone was after they heard of our situation, thanks again everyone for helping us out and making it still an awesome con! 🙂
AirFrance: shame on you.
Happy Halloween! I know I'm late, but before today I didn't really have any content to post here!
This year, I decided to give Baseball, the friendly neighborhood bat a little makeover to make him fit in with Halloween and went to the Couchsurfing Halloween party with Gerald, Luri and Phil.
As usual, we had a table again at Austria's biggest comic market, Vienna Comix. Apart from sitting there and drawing, we also had our costumes with us again to entertain people. Due to masses of people flodding the (pretty big hall) and making moving around hard, we had to postpone costume performing a bit, but eventually Dog and Baseball got out along with a few other critters.
After a few successful sales of Baseball art and patches by Henrieke we packed our things together again and went to my place for a nice evening (sponsored by YouTube) and a stress-test for my couch! Everyone had a place and we had a great time!
Should you happen to be around Vienna, make sure to check out the next Comix on 2.12.
Been to Delft with some friends and costumes yesterday. People had a lot of fun with the cartoon animals that ran around in their town and weather held up just until we were done! Henrieke made a few nice photos, some of them shown here:
Today we had a fun day at Vienna Comix again! Gerald, Luri, Andi, Lisa, Henrieke and me had a table again where we sold art prints, patches and sketches. We were also asked to bring our costumes again, so I brought Tyler and Dog and Gerald brought Eddie. We had a lot of fun interacting with the kids at the event and got a lot of photos taken, people also really liked getting sketches drawn by giant animals!
Had a fun day at Vienna Comix (former Comicbörse) today with Andi, Lisa, Gerald and Anita. We had a table again where we sold random art stuff, also Dog the Dog and Eddie Badger were there! Here are some pictures:
The first 3 were taken with my Polaroid camera and Impossible PX680 color shade film.