Without much comment, here is the result of tonights "eat poop you cat" game we did at the artjam after the Comic market.
"A chiuaua-space-dog and a sausage-space-dog playing chess in the deep sea, while a giant squid with mustache is serving tea." by Lisa
"Astronaut chihuahau and astronaut dachshund play a game of underwater chess while Stalintopus serves tea. Anglerfish swims by." by Henrieke
"Under the sea. You'll find this mad tea-party. Candlelight-dinners without candles and a game of kings and queens. It's a mad party you'll see. After some time you want to know what's right or wrong. Was there a head on this octopus? Nevermind." by Fischi
"Alice in Wonderland Tea Party scene with the Mad Hatter, Alice and the march hare but they are an octopus, a bunnyfish and Alice had rope for arms and smokes out of her head." by Phil
"Spaghetti arm girl had a tea party with her aquatic friends while a gentleman watches her from the shadows." by Yamavu
"The spaghetti monster is having the most delightful underwater tea party with deep sea creatures while a spy is watching." by Andi
"A private underwater detective is investigating at a tea party held by the flying spaghetti monster who invited all his fish friends." by me
I made another Art Jam in my apartment today (well, technically yesterday).
Attendees were Gerald, Andi, Paul, Lisa, Laurenz, Christoph and Henrieke over uStream.
Had tons of fun watching UHF, made stupid sketches and eventually played a round of eat poop u cat.
Here's the result:
1. "Lucy sent his winged skull to North-North-East."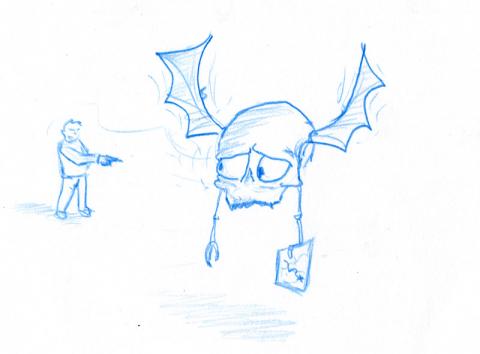 (drawn by Paul)
Yesterday was Comic meeting again, and we played a round of Eat poop you Cat which is basically a mix between Pictionary and Telephone.
In case you wonder why the sentences are on the same sheets as the drawings, I wrote them down afterwards to make it easier to read as we passed the result around.
So, here is the result:
"Argh, Comic meeting is on Wednesday already!"