Here are a few photos I took with my Polaroid Autofocus 660 camera and Impossible PX680 first flush film. I wanted to buy newer-generation film but they misunderstoof me at the store, so the colors of the photos are very interesting. I like how most came out!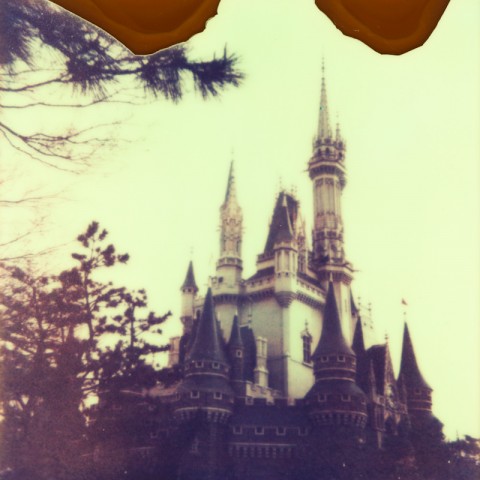 This day was basically just out trip home. We got up early to catch the Narita Express to the Narita Airport. There we returned our rented SIM-cards and met up with the Hiranos, friends of Thomas' parents. We had some nice coffee and then waited for the Airplane, this time luckily a Boeing 777 with nicer seats than the 747. In the Holland Herald magazine we found an article about the Impossible Project, where we'll go to in about a week. At Amsterdam we got out and didn't take our second flight to Vienna, only Thomas' parents used their ticket. Since there was enough time, we all had a coffee together and then drove off to Eindhoven. This pretty much marks the end of the Japan trip, I hope you enjoyed the photos and the read!
This was our last full day in Tokyo! We didn't have any important plans anymore, so we slept a bit longer and went to the small breakfast buffet in the hotel. As everything there, it was also tiny, so we ended up eating pretty much everything that was there, except the things in the Japanese section. Afterwards, we all went to Akihabara (also called Electric Town), an area of Tokyo that is packed with electronic stores and arcades. Deep in the jungle of Akihabara lies a maze of electronic parts stores, every hobbyists dream come true! Here are a few impressions. Continue reading for more about Akihabara, Pokemon center and more.
We had to get up early to catch the Shinkansen back to Tokyo, Katsu gave us a ride in the car. Since the GPS wasn't reliable, we saw some parts of Osaka where no foreigner has ever been. We even drove past Tazukas birth house! After a while of saying good bye we enjoyed the nice scenery from Shinkansen again and had some bento boxes for lunch, also we drew a starbucks create-your-own-tumbler inlay for Takako. Back in Tokyo we went to the Yaesu terminal hotel which is pretty much across the street from the central station. Everything there was tiny, but efficient, we liked it! Maki had time to meet up that day, so we went to Shinjuku to meet up with her. On the way we looked for the Pokémon center which was only a few meters from the hotel in 2005 when Thomas was in Japan the previous time, but it seems they relocated it. At Shinjuku, we went to an art store with Maki and got some supplies. Can you believe it, the art store had a whole aisle just for transfer foils! Continue reading for more photos and drawings.
Today we went to Nara, an old city full of  Temples and deer. We also met more Kawamichi family members there, Masato and Yuka. From the main station, we walked to a big area that was famous for having deer running around. Continue reading for more about deer and temples.
After all the stress we had so far, we decided to take it easy today. Everyone got up at around 11 and Henrieke got up even later. We watched some Japanese tv show about Austria, Japanese people really love that country. After having a tasty rice dish for lunch, we headed towards a mall in Itami (also called diamond city) for some looking around and shopping. Thomas' dad and Katsu immediatly split off to have lots of sake. We looked at all the stores and found a Disney store that sold very different things than the stores in the Disney parks.
Nobody in the whole mall wasn't asian and we didnt encounter anyone speaking english. Everyone was very friendly though, talking japanese to us while we nodded and wondered whether they realize we don't understand a word. We also went to Toys'R'us and enjoyed looking at all the things. Contrary to popular belief, not everything was in the manga style that got popular in western countries. Also there was an awesome gaming arcade, sadly it was hard to play anything because we couldn't read any instructions.
We got some more food and then went back to the house, where Yuko and Rumi cooked a delicious dinner for us!
We got up at 6:30 and had a very quick breakfast at the delicious hotel buffet, still sticking to the western style section as out stomachs simply wouldn't be able to eat raw fish and pickled stuff for breakfast. The Shinkansen to Kyoto left at 8:03 and the ride of almost 3 hours seemed very short. Thomas worked on university stuff the whole trip while we drove past very nice landscapes, we even saw the impressive Mount Fuji! Continue reading for more photos of Kyoto!
After 11 hours of Disney the day before we took it easy in the morning and drove to Ueno at noon. At the station some japanese guy got us to sign a petition against nuclear power. We didn't understand anything he said but eventually got the point. By the way, there are hardly any people here speaking english, most people talk japanese to us, even though they know we don't understand anything.
This day was dedicated to Disneyland! Since Henrieke heard a lot of good things about Disney Sea, we went to this park early in the morning. After riding the monorail we arrived at the park at about 9am. It was fairly busy of course, apparently this was the busiest day of the year.
Sooo.. first we went to the airport at 7am and took a flight to Amsterdam, where we had to wait a while for the next flight. The long transfer time gave us a chance to check out mostly boring stores, except one that was basically thinkgeek as a physical store. We had some dutch food for lunch and poffertjes as dessert, they're tiny poofy pancakes, delicious! We totally flew with a jumbo jet which sadly couldn't take off as something broke before starting (better than after starting I guess) and provided us with a 1.5 hour delay added to a 10 hour flight. After what seemed half a century we finally took off. The flight was mostly uneventful and sleepless, the food was very good though. We started drawing out of boredom and ended up drawing a cute plane together. Thomas abused the screen as lightbox to make a fancy version of the drawing that we gave to the captain. we couldn't deliver it personally, but the chief flight attendant gave us a nice souvenir bottle of booze as present in return.
At 9 am local time we arrived at Tokyo Narita airport, got ourselves some prepaid SIM-cards and took the train to Tokyo. In the hotel we pretty much dropped dead on the bed and after about 2 hours we met up more or less rejuvenated with Kio and Takako, friends of Thomas' family.
We had very typical japanese food for.. lunch I guess. It made us realize on how much sushi we get in Austria is made to appeal to western people, Thomas was reluctant to try the raw shrimp one... Henrieke didn't touch it. Some of it is very tasty though, once you know what to choose. Afterwards we took the taxi to Tokyo tower, a 332.5 m (1,091 ft) high structure that is loosely based on the Eiffel tower.