Here it is, the long-awaited EF Con report! You can even read it, but you'll most likely want to see the photos!
Prequel
Wednesday before the con we picked up Jill, who stayed with us at Henriekes place for a few days before EF. We explored the city of Eindhoven a bit, went to Efteling, a famous theme park in the Netherlands, to Apenheul, my favourite Zoo ever where monkeys roam around freely and Abunai, the biggest anime con of the country for some suiting.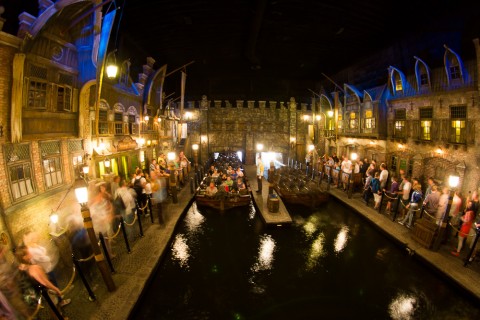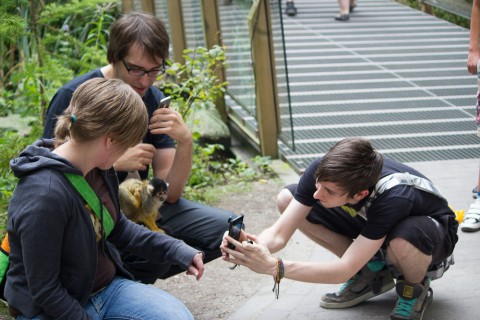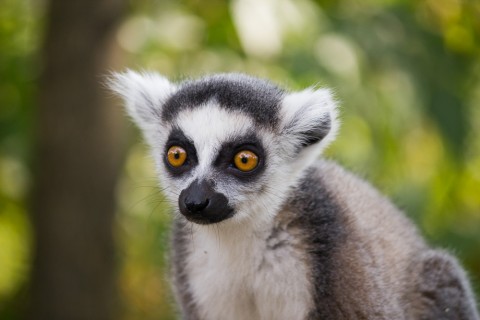 More Apenheul photos are here!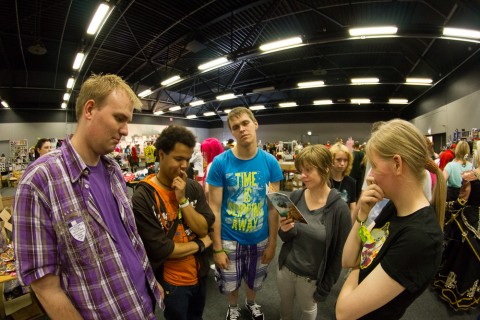 Monday, 27.08. – Eurofurence Day -1
We arrived at the youth hostel next to the Maritim at around 15:00 after a very fast 5-hour ride. German highways are awesome, we drive around 150kmh (around 95 mph). The hostel was very nice considering the price, we even had our own bathroom!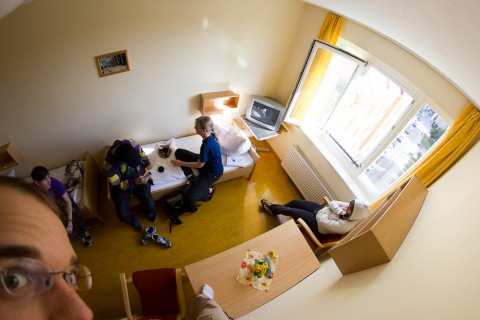 Being all hungry, we went to the destination #1 in Magdeburg, the "House of Steaks" which offers very reasonably priced tasty food.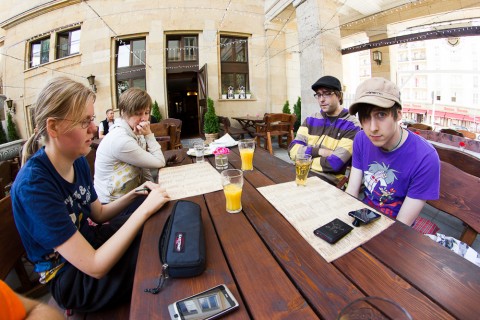 Back at the hostel we relaxed a bit and went to Kaufland and bought some food and drinks. After a small dinner we went to the Maritim and met some of the staff there already. We had some beer in the amazing Piano Bar and enjoyed the nice not-yet-crowded atmosphere.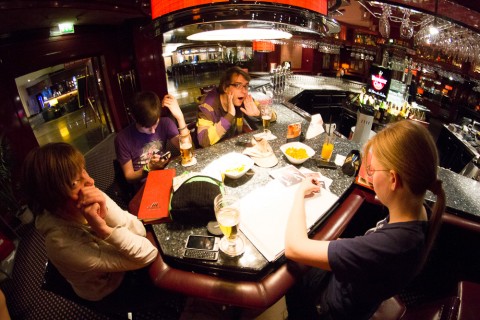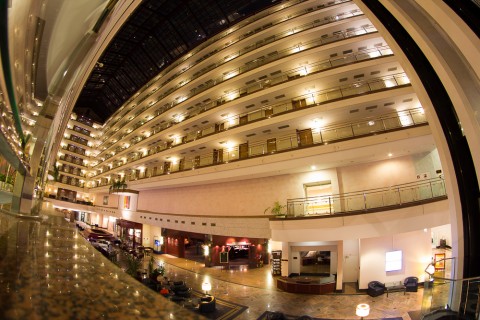 Because I really felt like suiting, I invited Baseball over and let him roam around in the lobby a bit. There was a big group of dutch tourists who were fun to interact with. Baseball also got an "Oh no, now the con starts another day earlier" from Cheetah, sorry! 😉
After suiting and a beer it was time for bed so we could get up early for the registration.
Tuesday, 28.08. – Eurofurence Day 0
Got up, checked out at the hostel and went to the Maritim around 10, waited until 13:00 to check in, were the first in line. We got nice rooms and loaded our tons of luggage into them. since Henrieke wasn't feeling good, I went to subway with Tabbie and Mag and brought her back a sub, had lunch in our room, then we went to the lobby. mostly greeting new arrivals like Zot, kKugo, etc.
Tabbie, Mag and me went to the Pool area which was populated by brits, finns and germans already. We did a nice relaxing steamroom session (best thing for my allergy). Then we went to dinner with Zotcoon and some of his friends from the U.S. had some good and cheap Pizza at House of Steaks again and went to Kaufland to get some breakfast supplies.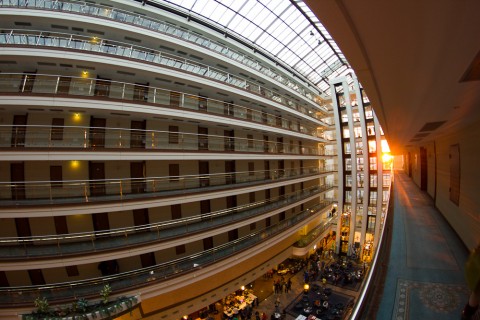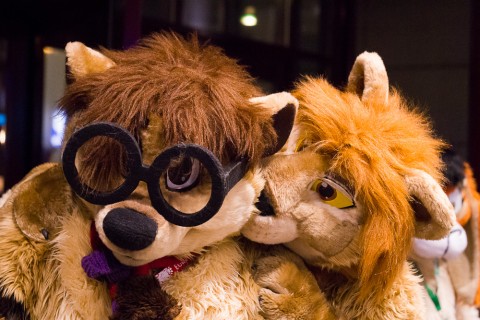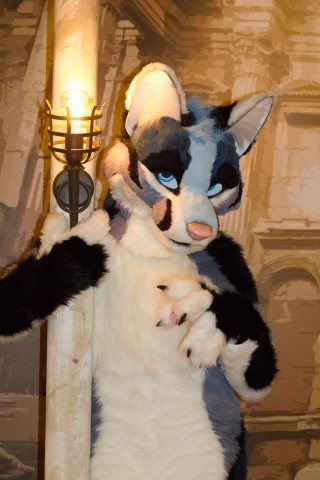 In the evening we were in the lobby, Baseball (played by me) got out again and got some photos made. Later, also small Baseball (played by Mag) got out and roamed around in the lobby, doing bat things.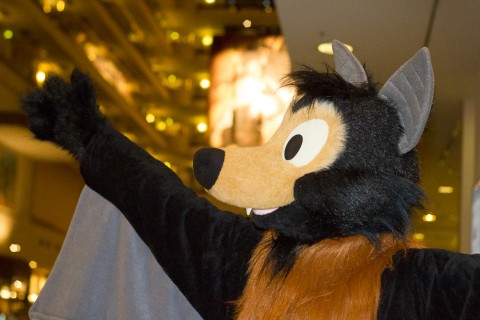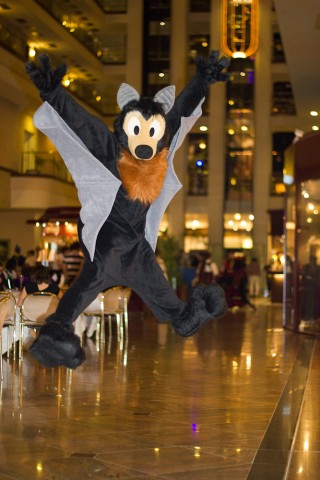 After suiting Tabbie, Mag and me spent some time being stupid in the room. Henrieke talked to Tifou about Comics until 2am.
Wednesday, 29.08. – Eurofurence Day 1
Got up at 9:45, cleaned up room a bit and had breakfast while watching boring german TV as EF Prime wasn't operating yet. Then we went to the lobby and the art show setup to sort things out regarding Titash's piece there. At 13:00 we met with Pinkie and Foxamoore and had lunch at the "Quilin" asian restaurant. Since we didn't manage to do so last year, it was really nice having a chance to chat a bit now. Also Foxamoore is really nice and makes amazing music! Back in the hotel, O'wolf told us that there was a press event so we suited as Lindy and hop a bit and got photos taken by Mag.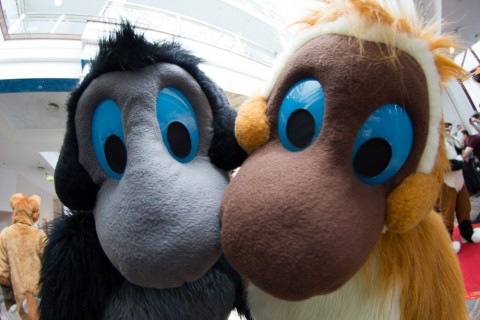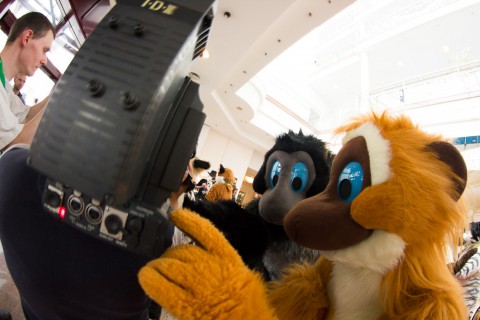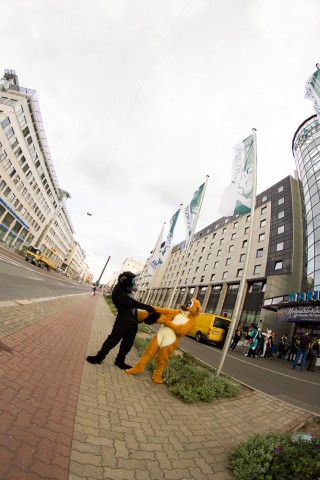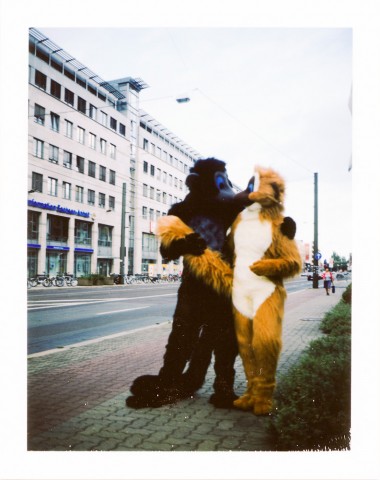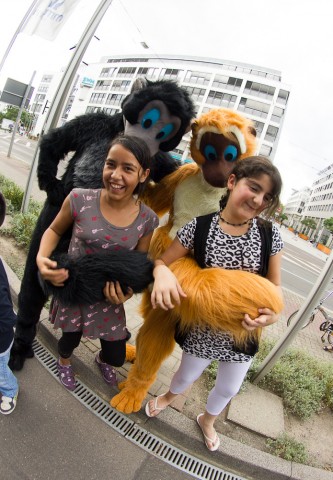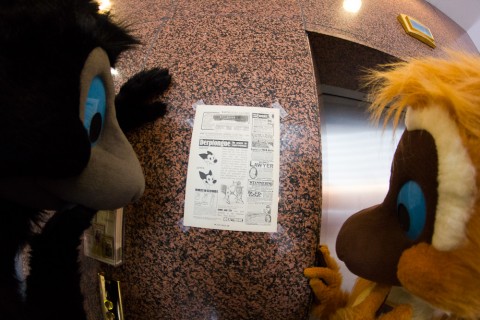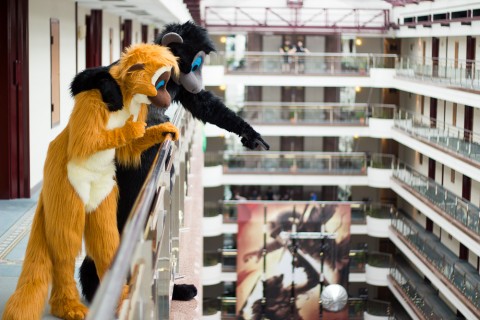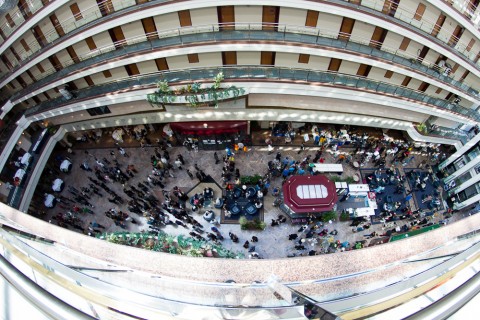 At 17:00 we watched the opening ceremony which was awesome! I never really attended an opening ceremony before and didn't expect anything besides announcements, but of course being Eurofurence, they outdid themselves and it had music, lasers, stageplay and Cheetah in a chariot.
After the opening ceremony we had barbecue with Lance and Tracy. Henrieke had more art show setup work to do, so I went to Tabbies room, met some people and hung out in the lobby. Then Henrieke and me went to help out a bit at the pawpet workshop, sewing a bit in order to relieve the staff a tiny bit from the stress.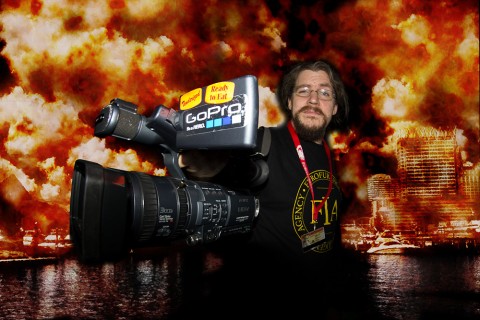 After that we went to the artists lounge. Katara, Lisa, Yamavu, etc. were there. I went to the dance around 1:30, but the music wasn't really my style and we went to bed at 2:30.
Thursday, 30.08. – Eurofurence Day 2
In the morning Henrieke and me went down to the Dealers Den around 11:00 to deposit our stuff that Rotarr sold for us. I tried myself at creating something cool called Derptongues, they're fleece tongues to make fursuits look stupid! On the way we also met a new and all fresh looking Keenora! Also we spent some time at the Art Show setup, making sure Henrieke's and Titash's print were set up right. For lunch we went to good old House of Steaks with Kougo, Diti, Zot, Tabbie and Mag. I made a Polaroid Badge for Baseball and another one of myself later in the hotel.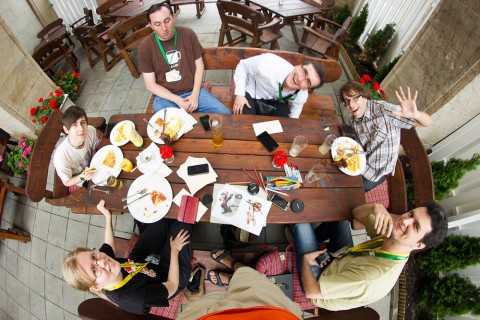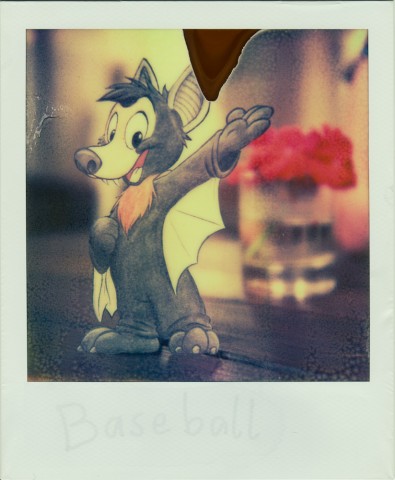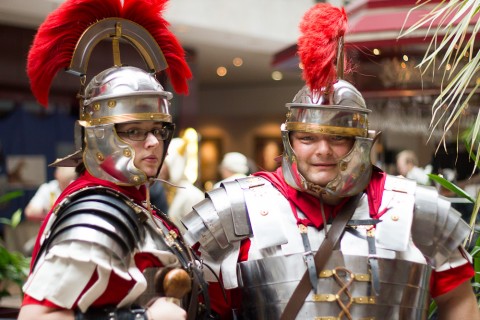 Dealers Den had a superlong line, so I just suited a bit as a bat and crashed into Sithys Fursuiting 101 panel. Then went outside a bit and got a Polaroid photo taken by Yotie which he transferred to paper.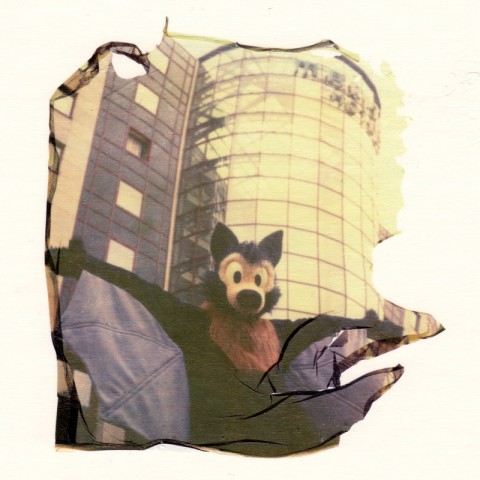 Also interacted with lots of kids and participated in a flashmob.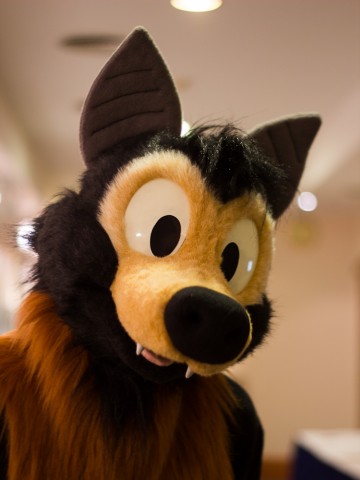 We went to Subway for a short dinner with Kougo and Diti. At 20:30 the fursuit group photo was taken at the main stage..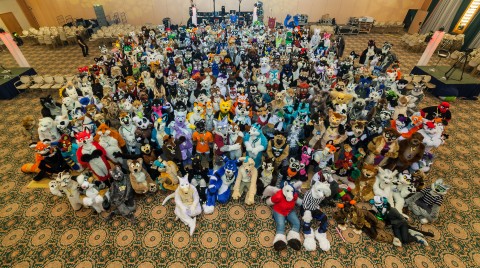 …and after that immediatly the fursuit dance started with 2 Unlimited.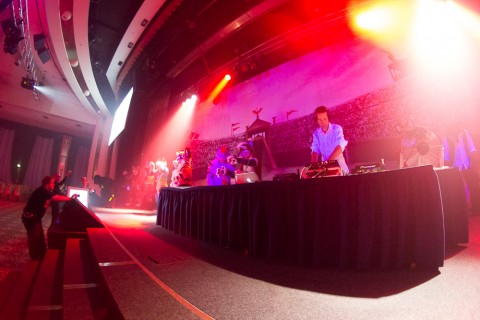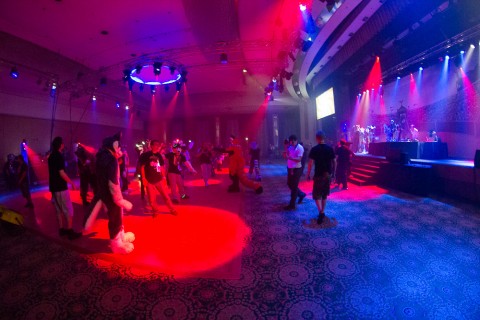 I (Baseball) danced a bit while Henrieke was in the fursuit lounge. The music was awesome, Kenai played Gangnam Style not only once but twice! I met Nahro again in the fursuit lounge. He's a pretty cool guy from austria who builds suits and does acrobatics. I suited a bit more and then took a break. Henrieke and me went to the artist lounge and I danced a bit more at Kenais amazing dance set!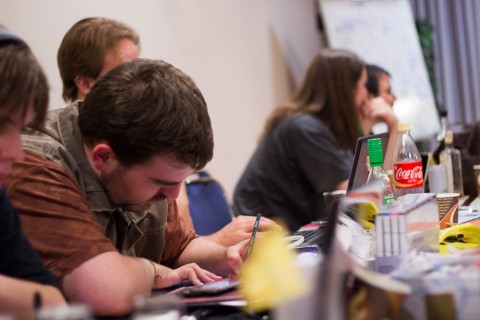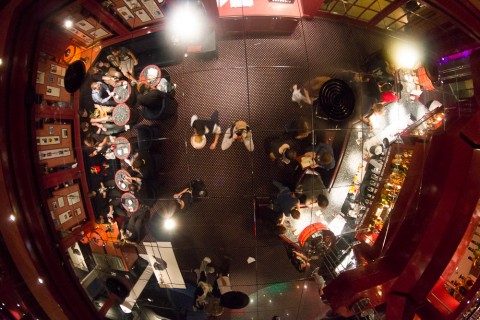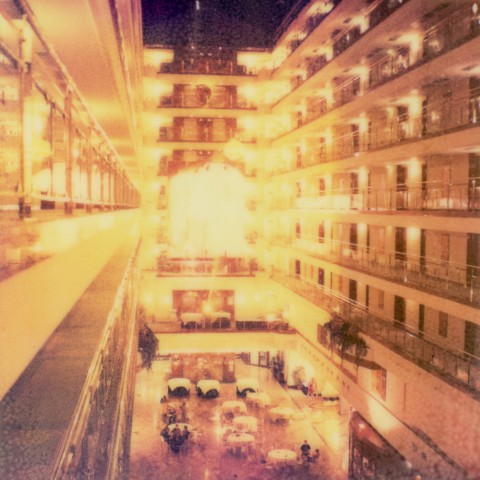 Mag and Tabbie and a few other people had a party on the c-floor, but sadly the music was a bit too dubstep-ish for my taste. Pinkie went crazy though! Did one art trade and went to bed with Henrieke at 2 after walking through the lobby.
Friday, 31.08. – Eurofurence Day 3
We got up at 10:30 to get a reservation for fursuit photoshoot. Then we went to the "International snack exchange" panel with Gwyndolium and Skittles (who's amazing!). Lance, Jill and Pegla were there as well.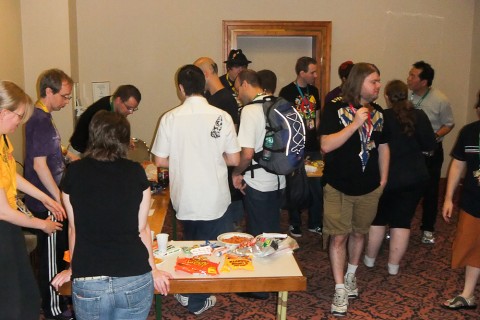 I met up with Tabbie, Mag and Kougo there and went to a restaurant behind the hotel with them for Nürnberger sausages, then rushed for a press event at 15:00 which didn't really happen. I put on Baseball for the parade and came across the camerateam in the lobby. I got filmed a bit by BNN, a dutch channel doing a documentary about furries, Whiteshadowfox in specific.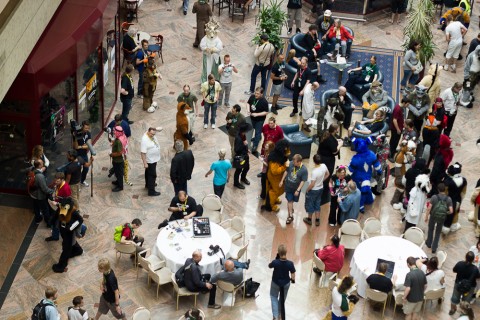 When the parade started, Henrieke wasn't feeling well so she didn't suit. The parade had a changed route due to another parade by a renfair on the same say. The new route led through a mall, people had very surprised looks on their face. Also a lot of kids to interact with!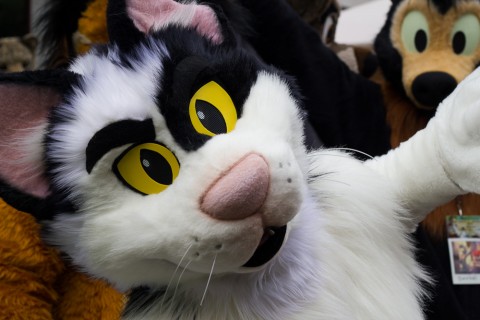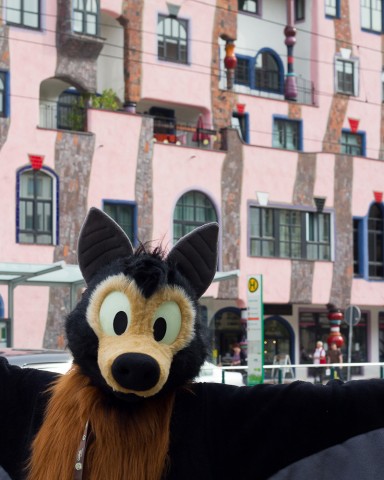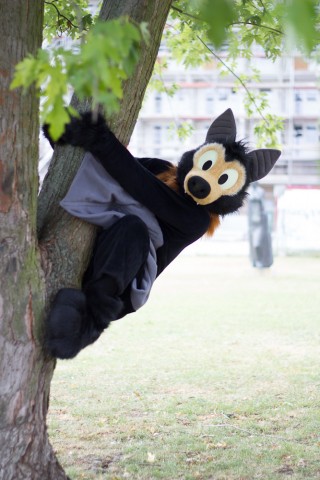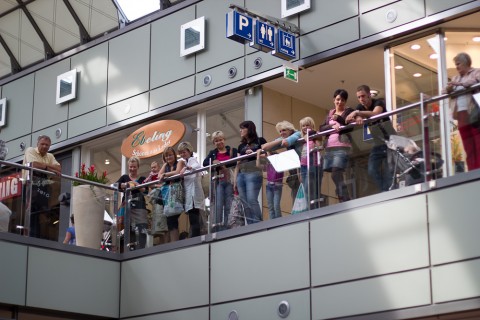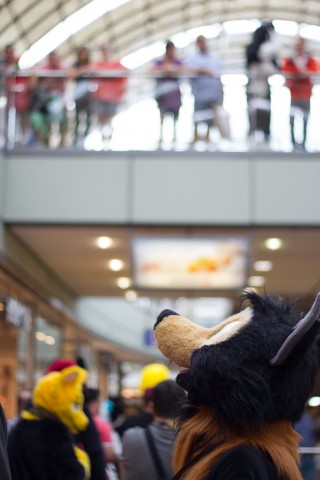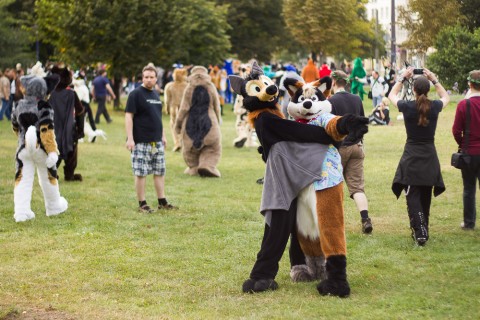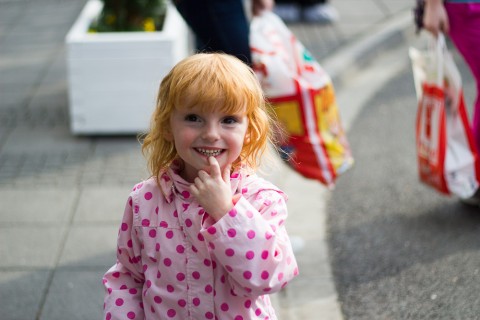 After the parade I got a FP-100C photo by Yotie outside. Henrieke and me went to the Dealers Den again before it closed, then went to the room. Me, Tabbie and Mag went to the steamroom while Henrieke was at a BNN interview. Got out of steamroom at 19:15, sat together a bit with BNN guys and Whiteshadowfox, then went to room for some small dinner and a painkiller against a stupid allergy-related headache. After that we went to the lobby where party was going on. Tabbie, Mag, Zot, me and others created a shitty dance circle which was hilarious!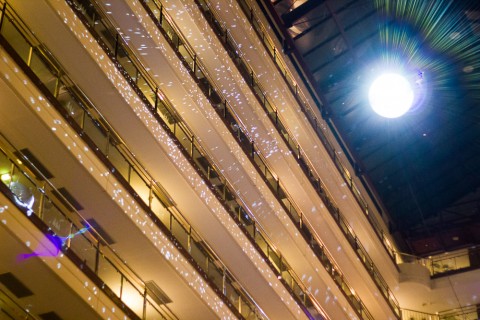 I did a trade in the artist lounge and noticed there was a party going on next door and a lot of people I knew were there, including party animal Katara! Mag, me and Jill eventually went there and we danced stupid and had a good time. Sadly Henrieke wasn't feelinfg too well so she couldn't join the dancing and we went to bed at a late hour.
Saturday, 1.09. – Eurofurence Day 4
Got up at 11 and missed the photoshoot, stupid us! Then we went to dealers den then and occupied Lisas/Scarecrows table as they weren't there yet. I sold some stuff and drew my first and only commission at EF for Albus. I also met the very amiable Avalon!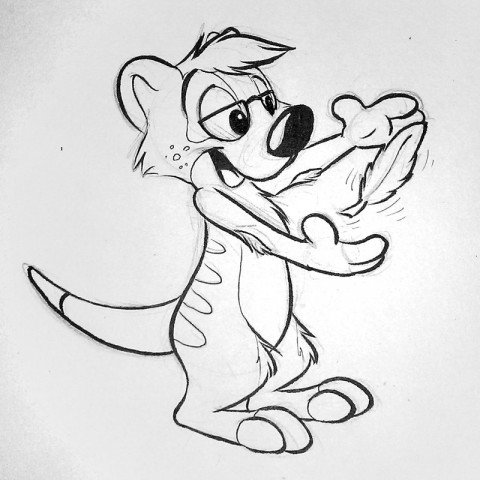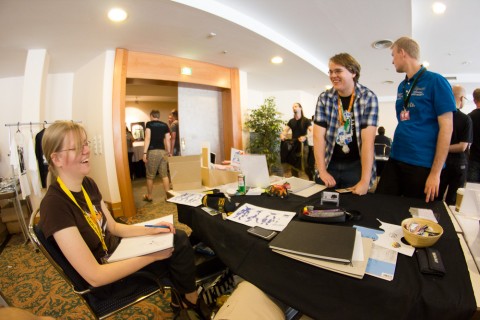 Henrieke went to charity auction and I stayed a bit in the Dealers Den until scarecrow arrived. I went to the auction as well then and saw Titash's drawing being auctioned for 1000€! Since it was appropriate I took Baseball (Mag) to the "Bat Panel". Since that one started late, Baseball decided to annoy Pegla, Foxb, etc. at the panel next door. At the Bat Panel Baseball helped out with giving scientific explanations about bats. The panel host didn't recognize him as a fruit bat, that was a bummer!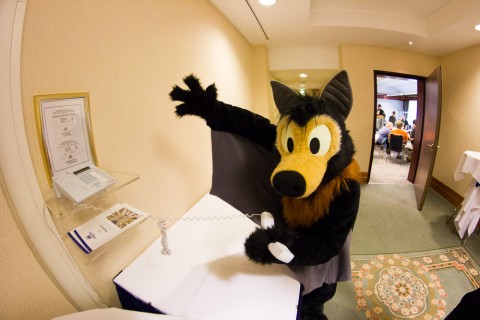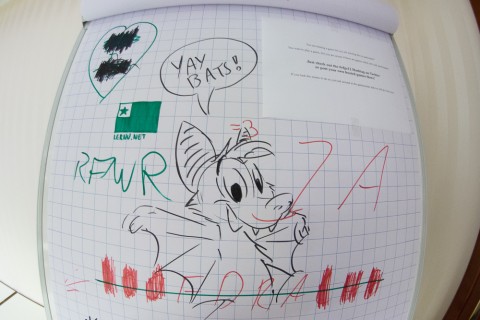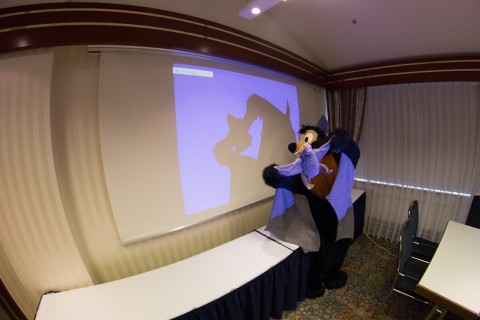 After that Baseball went to the lobby, efficiently helping out the charity lottery table a bit with selling tickets and Otter noses.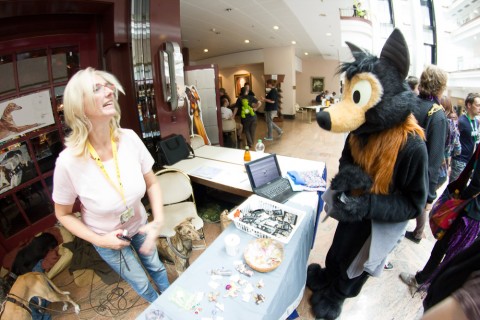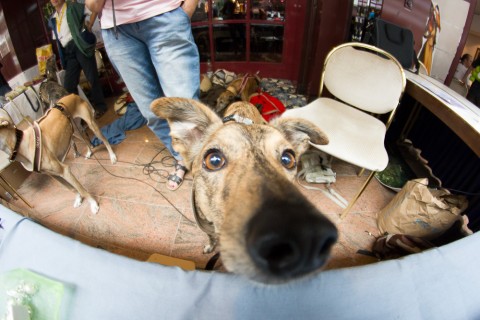 Then we finally had lunch at 16:30 at Papaya with Tabbie, Mag and Henrieke. Met ezwolf there, also Zotcoon at Kaufland where we got milk and other foodstuff. When the dealers den closed, we picked up our unsold stuff and I sold a few more Derptongues in the lobby.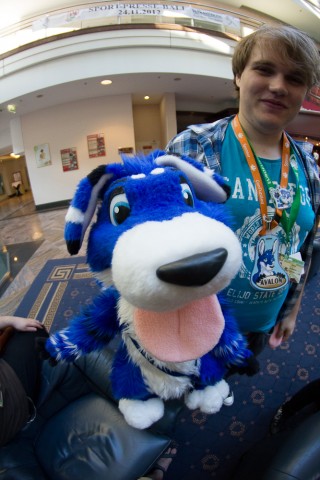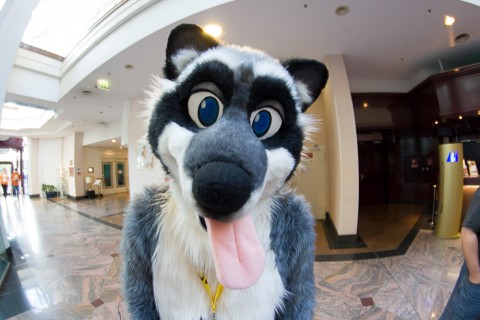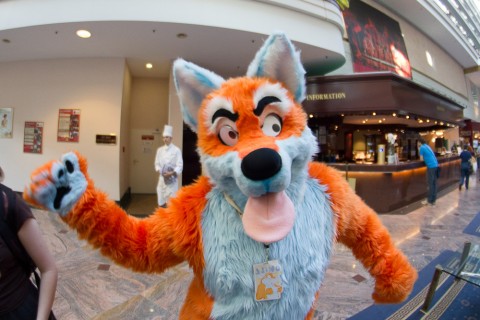 We went back to the room and got ready for pawpet show which started – to our surprise – in time. The pawpet show was nice, great effects, new ideas and epic Shay narration. I have to admit, I liked the story and characters better last year, but I'll definitely see it again next year any maybe I can even help out a bit more next year! Henrieke and me chatted with staff afterwards, then we took a break in room. We went down with Dog and Baseball a bit, danced with Waffles, hung out in fursuit lounge, then did some more suiting.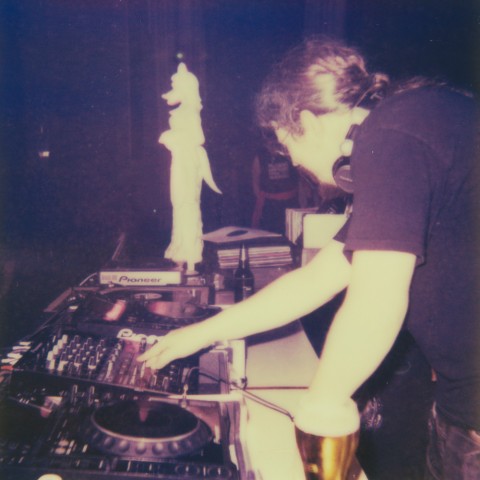 Dog and Baseball had a fun time in the artist lounge with some girls, then went back to the room. At 4am we went back to the lobby and chatted with people a bit and went to bed at 5:43. Note to people used to american cons: The party was still going on at that time!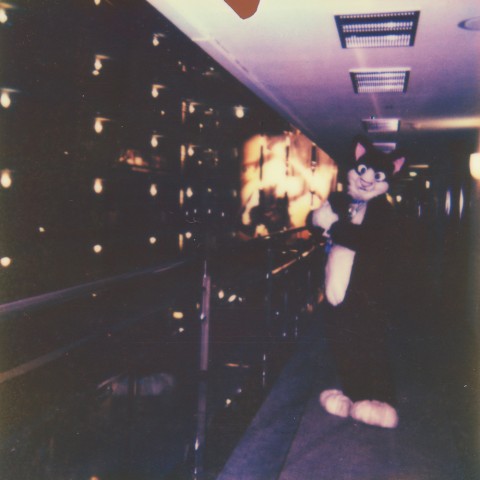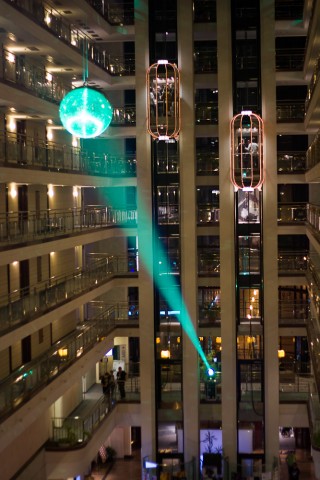 Sunday, 2.09. – Eurofurence Day 5
We got up at 12, went down to the lobby around 13:00 and mostly said good bye to people leaving already. I met Waffles and took a Polaroid photo using the Impossible V4B testfilm that Yotie got for me.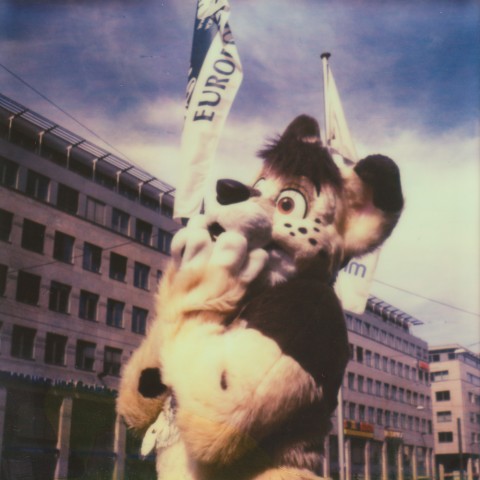 Then we went to La Piazza for a tasty lunch with Yotie, Aatheus, Zotcoon and Yamavu. We even saw some people still suiting nearby at the fountain.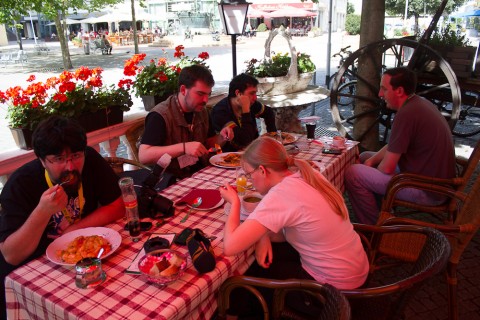 We all went back to the Hotel at 15:00 where they put down the disco ball. Tabbie, Mag and Kougo were sitting on the C floor drawing so we joined them for a bit. Went to room with Zot and Henrieke, as Henrieke needed some rest. Back in the Lobby I met Trax and finished the sketch I started for him in the Pawpet show.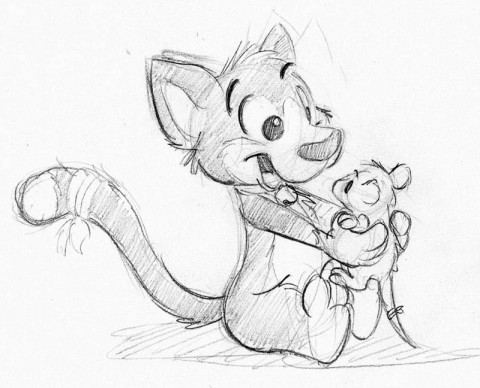 Since this was the last chance, I tried to find people who would wear our suits since I really wanted to have all of our characters out at the same time! Luckily volunteers were quickly found. We went up to the room to get into suits. Mag suited as Baseball, Rotarr as Dog, Sithy as Tyler and Henrieke and me as Lindy and Hop. Okill, Yamavu, Yotie and Diti went with us to take photos. (and another german guy, I forgot your name sorry!) We went through the lobby, interacted with people and did a photoshoot at the back entrance.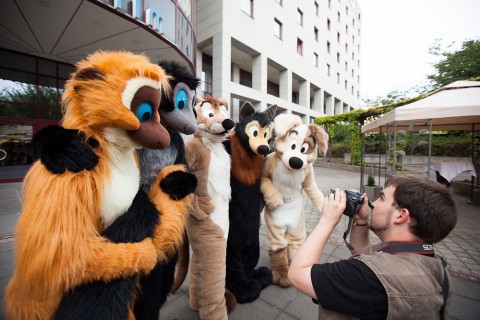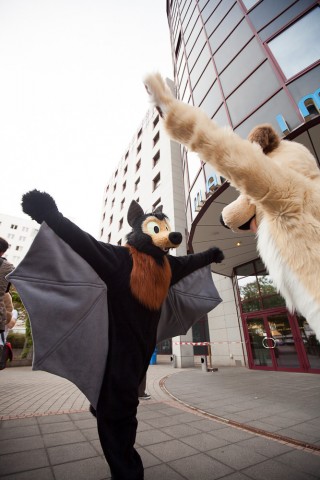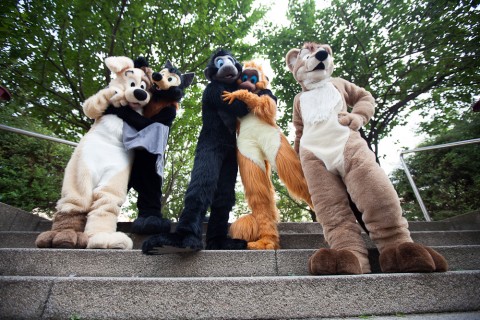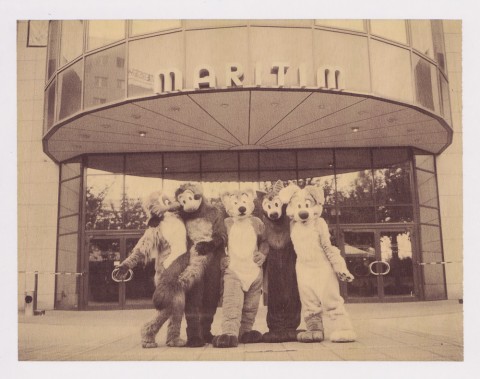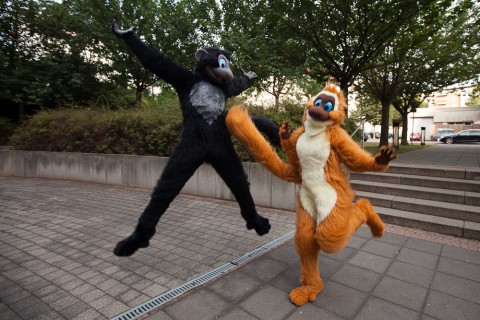 Back inside, we interacted with lots of kids, anooyed staff members and had tons of fun! 🙂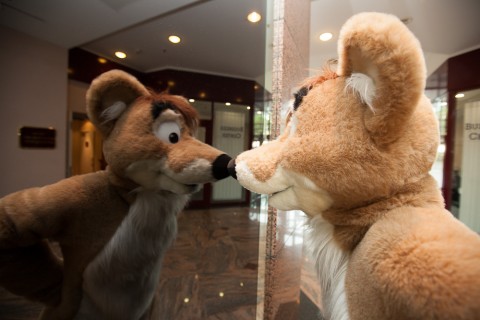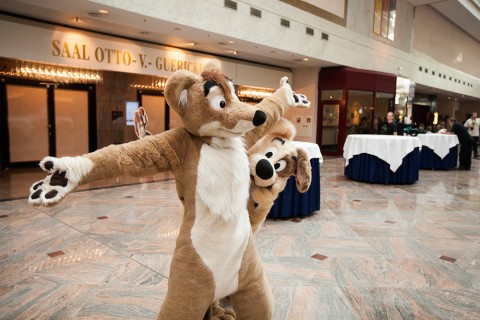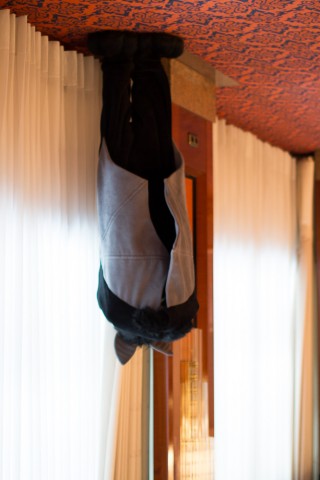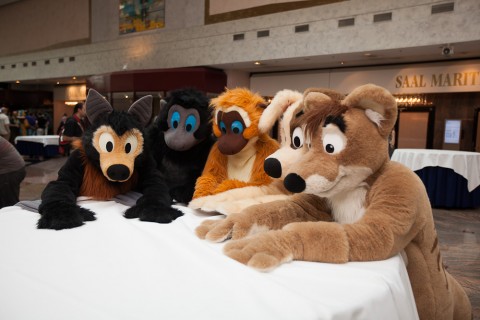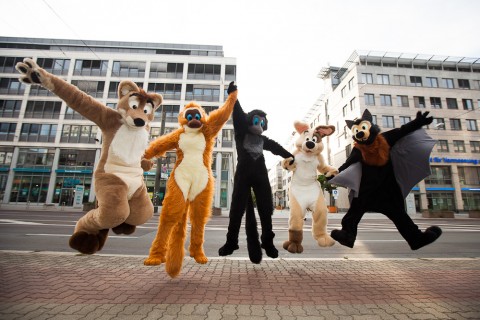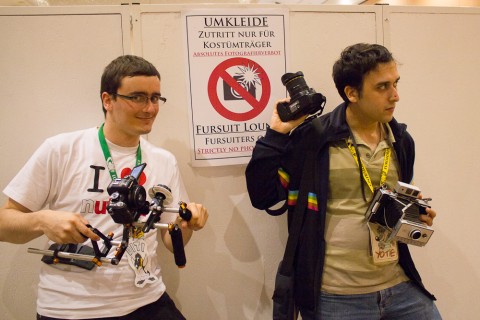 After suiting we met up for Dinner at Quilin with Diti, Tabbie, Mag, Tifou, Silverfox, Pokelai and ???. Did an arttrade with Pokelai there, his half being much better than mine!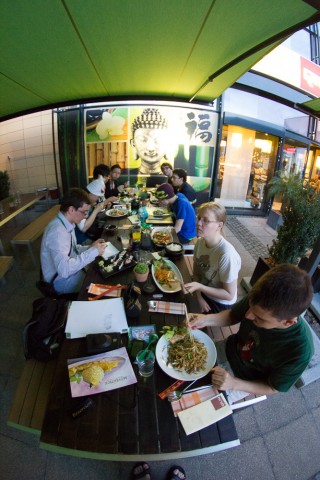 Afterwards we went to the lobby a bit and then organized a little roomparty in Yotie's room with Mag, Neo, Pokelai, Tabbie, Spikie and of course Yotie. I did an arttrade with Neo and we did some stupid things on Yoties bed. (see photo)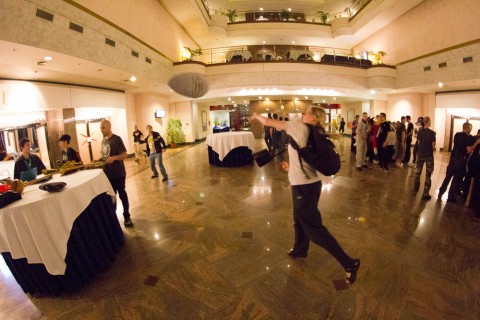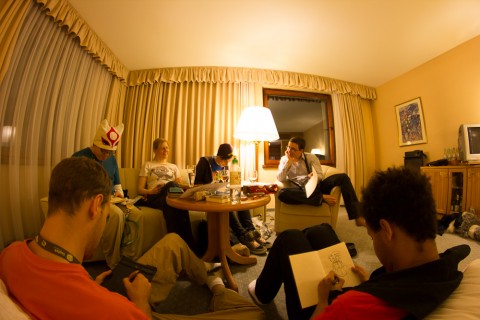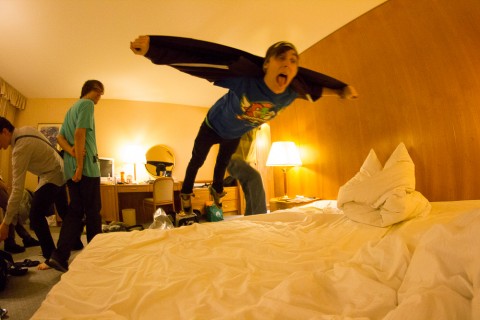 Later we went down to enjoy the dead dog party. The party was awesome as usual, I danced a lot with Mag, Tabbie, Diti and Jill an one of her many "dates" who didn't seem amused. 😛
Went to bed really late of course.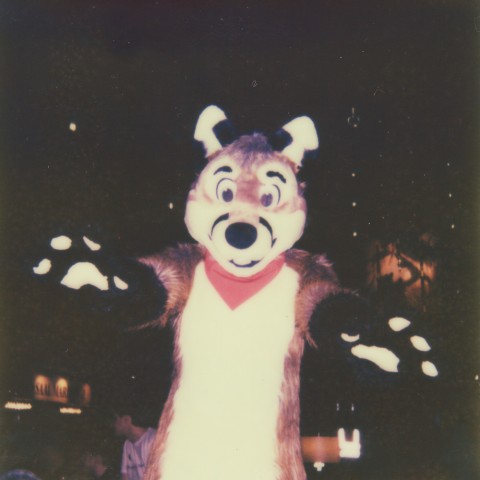 Monday, 2.09. – Ringberg Revival
Got up around 9, packed until about 11 despite already starting the night before. It just always takes longer than expected. Me, Henrieke, Tabbie and Mag left around 12 to the Ringberg afterparty. We made a stop at a Burger King rest stop and didn't get good service and no kids menu, lame!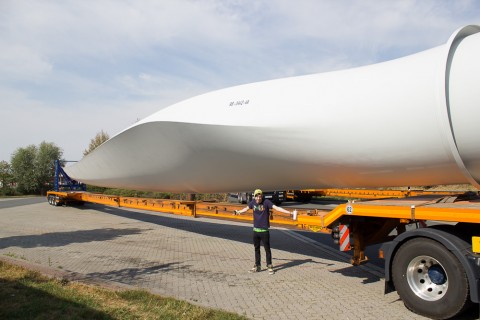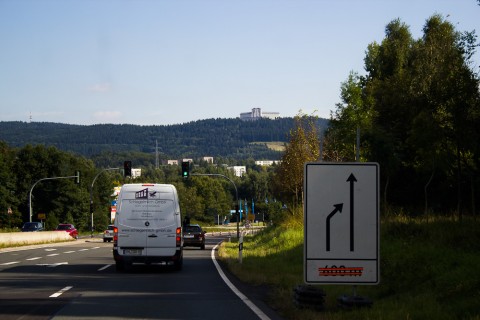 We arrived at the Ringberg at 16:30 where people were already waiting. We quickly dumped some stuff in our room and Mag got Baseball out.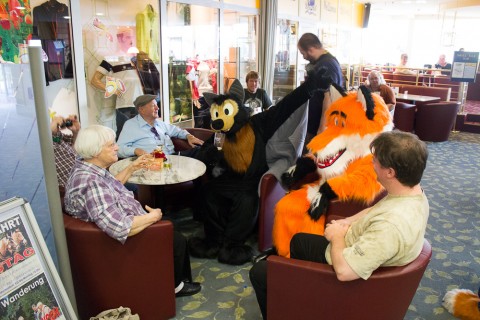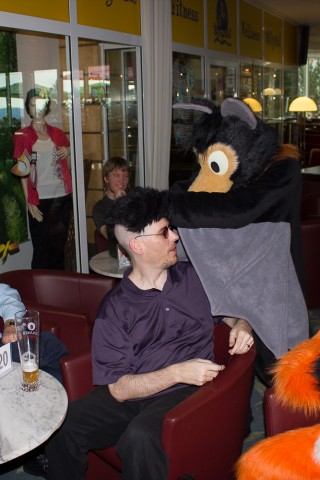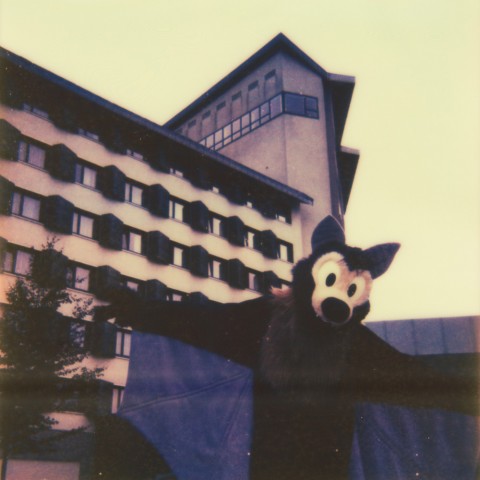 After a few photos we all went to Crazy Horse, a steakhouse that was very popular during the years when Eurofurence took place at the Ringberg Hotel. They never saw a fursuit at that time, so Unkle Kage decided to drag some suiters down there last year. This year we did the same!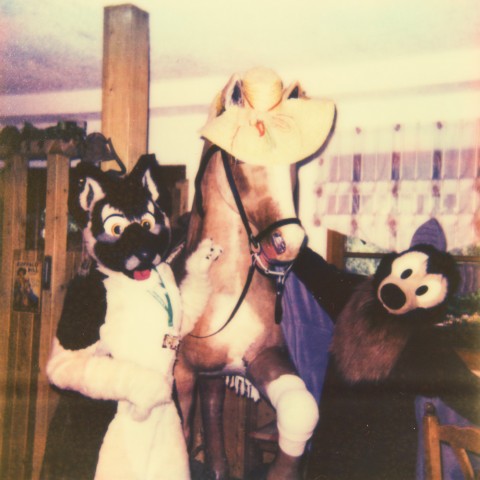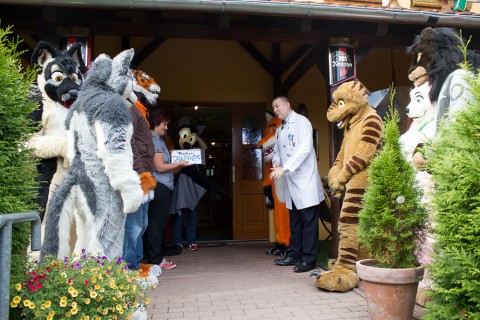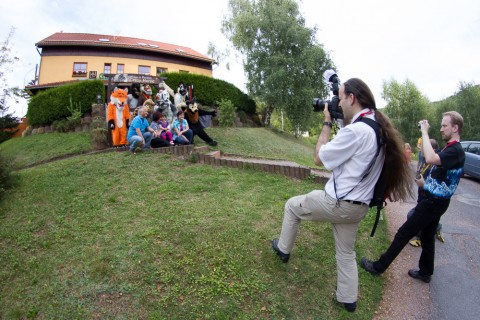 After the suiting, most people went up to the hotel again to change into more normal clothes. Henrieke, me and Atkelar stayed and waited for the others, chatting a bit. We had some very tasty steak and left some drawings for the owners.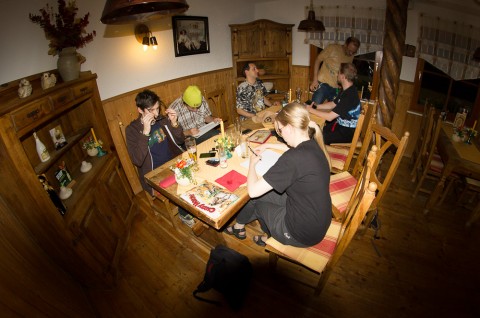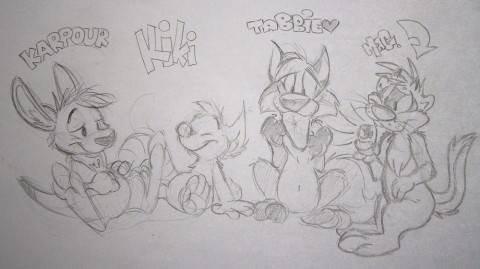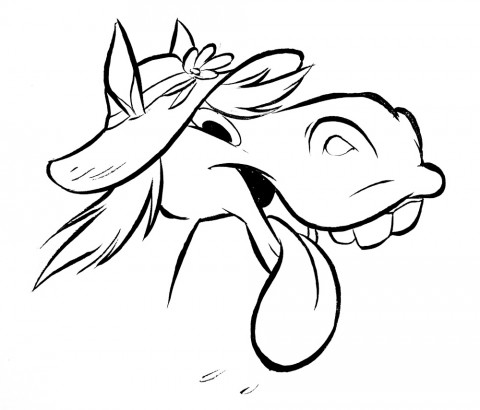 Back at the Ringberg we expected party, but to our dismay most people quickly went to bed. A few people were left including Atkelar and Tzup, and Mag and me suited as Dog and Baseball and annoyed random people while the others almost fell asleep. Eventually we went to bed as there was nothing going on anymore.
Tuesday, 3.09. – The End 🙁
Henrieke and me enjoyed a nice breakfast buffet in the morning and sat together with Tzup (whose name, as we found out, is pronounced Tsoop). After a nice exchange of words he had to leave to catch his connection to the Airport. We packed our thing in the car and walked around the Hotel a bit, being nostalgic about the previous EF's. Also I was flying around a bit with my AR.Drone 2.0, sadly thanks to a very badly coded Android application, the video footage got lost. Also I managed to forget my AR.Drone there, but thanks to the nice staff I have it back by now.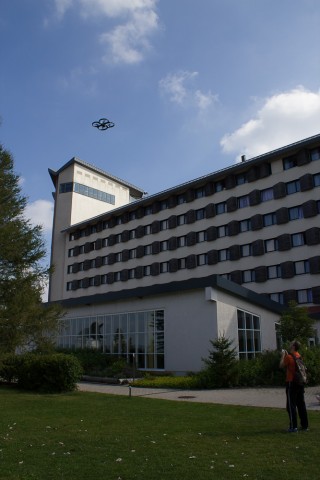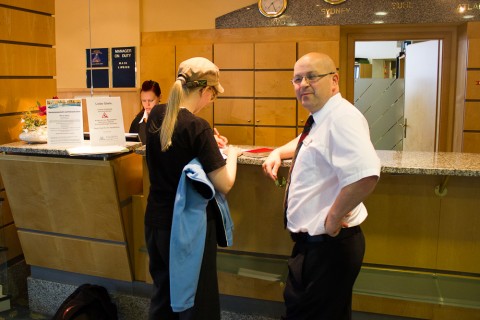 Since we never made it there before, Henrieke, me and Atkelar went to Tierpark Suhl, a cute little Zoo in the Town of Suhl. During one Eurofurence, it was also the chosen charity and money from EF attendees helped them building a new Meerkat exhibit. They had lots of super adorable baby meerkats!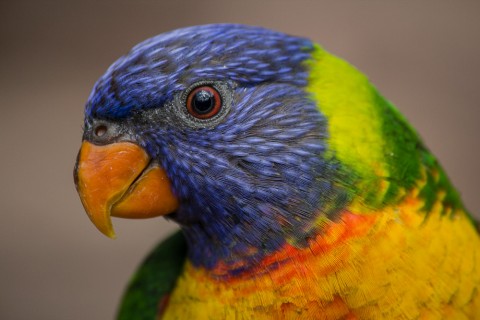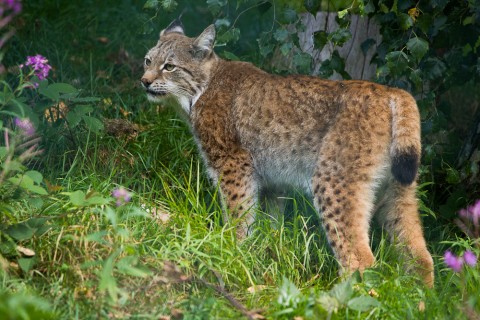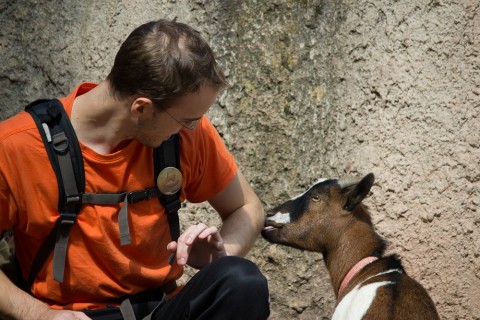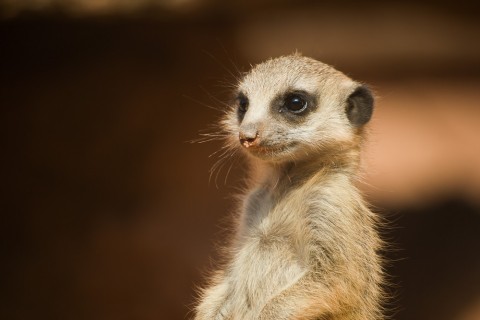 The Zoo was definitely worth a visit! After that we drove back to Vienna. On the way already concrud started kicking in, making driving pretty exhausting.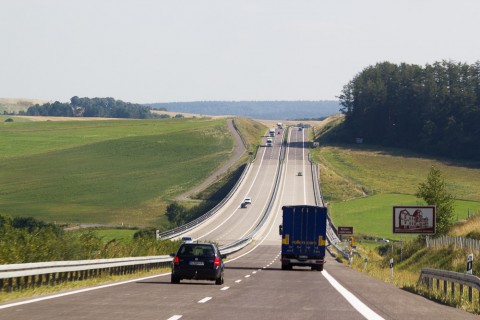 Tabbie and Mag stayed overnight, the next day we had some nice austrian food and then they went back to Bratislava, effectively ending the EF Trip and this report. I hope you enjoyed reading and looking at photos and I hope this report gave a nice perspective on how EF is like. 🙂
Thanks to
The whole EF staff for organizing the best week of the year!
Everyone for hanging out and making my con time great
Okill, Yotie, Diti, Atkelar, Yamavu, etc. for taking awesome photos
Sithy, Mag and Rotarr for wearing our suits and doing a wonderful job at bringing our characters to life
Uncle Kage for organising the Ringberg Afterparty, which was awesome!
The Maritim for existing
All the nice kids at the Hotel who we made smile, which in return made us smile!
See you next year 🙂