We went to Epcot with Lisa, Chris and John and met up with Richard, Randy, Lon, Zack and Mark.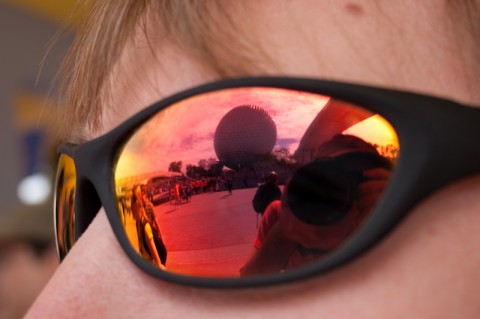 The Spaceship Earth reflected in Chris' sunglasses.
Until lunch we walked around at the world showcase. The first thing to do was of course seeing the fabulous 3 Caballeros ride in the mexican pavillon, which was animated by Eric Goldberg! We ended up having lunch at the German Biergarten. It was truly amazing, the whole staff was german, and the food was amazingly authentic. It felt weird eating german food in the US, but at the same time it was really cool. They even had a live band playing cheesy german songs!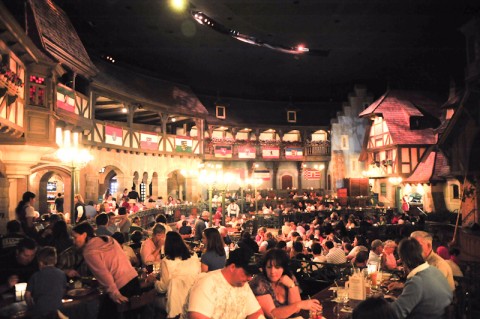 German Biergarten restaurant.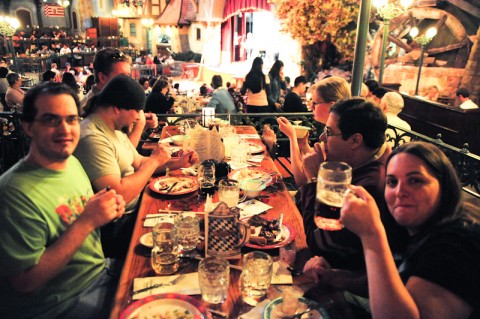 Zack, Mark, Lon, Henrieke, John and Lisa enjoying good german food.
Being stuffed, we walked around in the stores and enjoyed the well-done theming. The japanese pavillon was nice as always and the other ones too of course.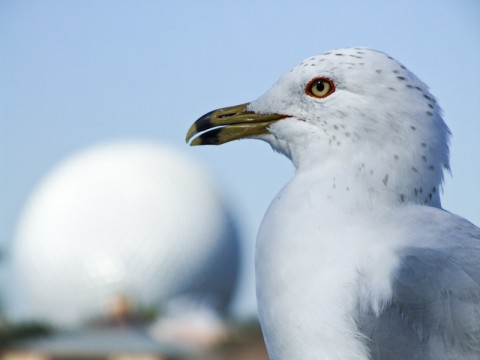 This was – of course – taken by Henrieke!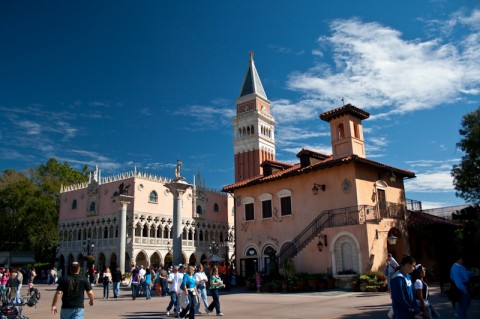 It was a wonderful day for a polarizer.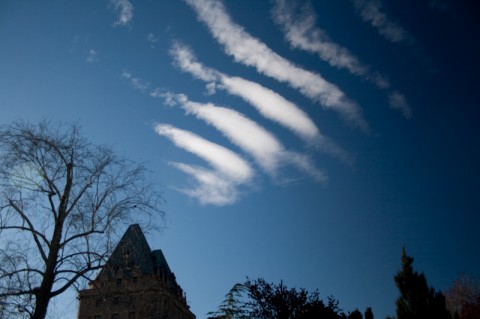 Well okay the polarizer overdid the contrast a bit. These are obviously Thylacine stripes in the sky.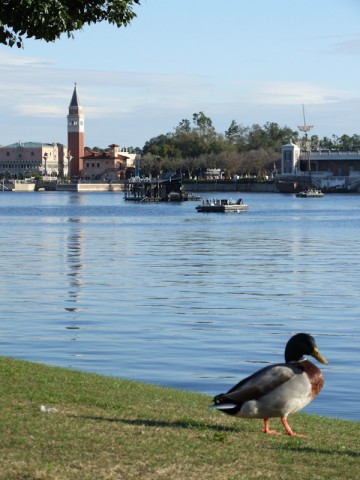 Duck!
Other rides we did were Journey into your imagination and Spaceship earth. They had a cool new ride in the Innoventions center where you could design your own rollercoaster and ride it in the simulator.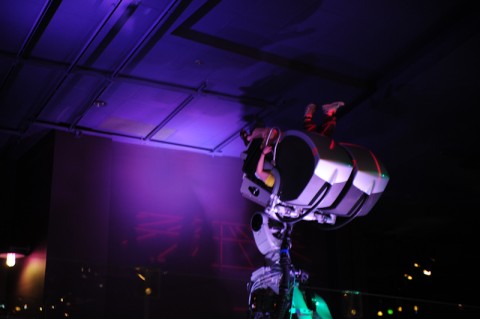 That was so cool!
I skipped Mission Space this time since it was a pretty awful experience last year and ended up making fun of the so-called art in the "Art of Disney" Store with Lisa while they others took the ride.
For Dinner we went to Chevys, a nearby mexcican restaurant where Moon and Torey joined. The food was really good, but I'm just not used to having such heavy food in the evening. We had a little artjam there which we continued at Lons place.