Once we got up, we realized that we should've done more packing the day before. We had 2 backpacks, a bordcase, a small travel bag, a huge suitcase, a huge travel bag and 2 boxes trimmed down to the maximum luggage size and still it was almost impossible to fir everything.
In total our luggage was about 100 kilos and we had a hard time putting everything into Chris' car when leaving the house. In the end everything worked out fine though and we said goodbye one last time.
The first flight seemed to be really fast aswell as the stop in Washington. The second flight was about 8 hours long and ended in Amsterdam for Henrieke. KLM was bitching about my overweight luggage, which really pissed me off since they only allowed 20kg (43lbs) of carryon luggage with an overluggage rate of 15€ per kilo and also only allowed 10kg of hand luggage. I'm definitely going to avoid KLM in the future.
Anyway, Henriekes parents picked her up, brought me fabulous cheese (thanks again!) and stayed with me until I had to go to the gate. Saying goodbye was sad of course, but I also looked forward to home! At the airport, my mom and my nieces picked me up and made my day, despite my huge jetlag.
The only thing left to do is saying thanks to everyone who made this trip possible! In 5 1/2 weeks, we met so many awesome people and saw so many places, it was simply amazing!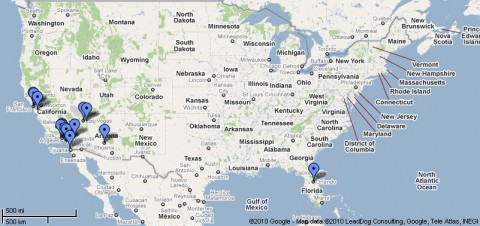 All the places we've been to.