Sooo.. first we went to the airport at 7am and took a flight to Amsterdam, where we had to wait a while for the next flight. The long transfer time gave us a chance to check out mostly boring stores, except one that was basically thinkgeek as a physical store. We had some dutch food for lunch and poffertjes as dessert, they're tiny poofy pancakes, delicious! We totally flew with a jumbo jet which sadly couldn't take off as something broke before starting (better than after starting I guess) and provided us with a 1.5 hour delay added to a 10 hour flight. After what seemed half a century we finally took off. The flight was mostly uneventful and sleepless, the food was very good though. We started drawing out of boredom and ended up drawing a cute plane together. Thomas abused the screen as lightbox to make a fancy version of the drawing that we gave to the captain. we couldn't deliver it personally, but the chief flight attendant gave us a nice souvenir bottle of booze as present in return.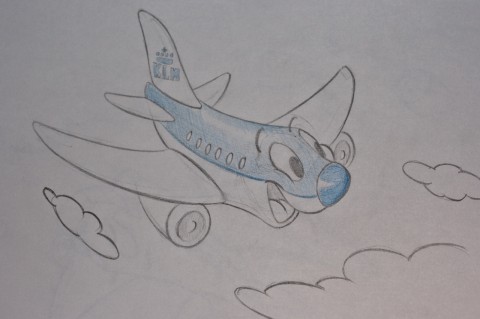 At 9 am local time we arrived at Tokyo Narita airport, got ourselves some prepaid SIM-cards and took the train to Tokyo. In the hotel we pretty much dropped dead on the bed and after about 2 hours we met up more or less rejuvenated with Kio and Takako, friends of Thomas' family.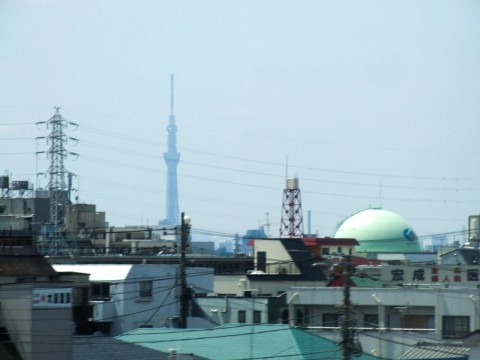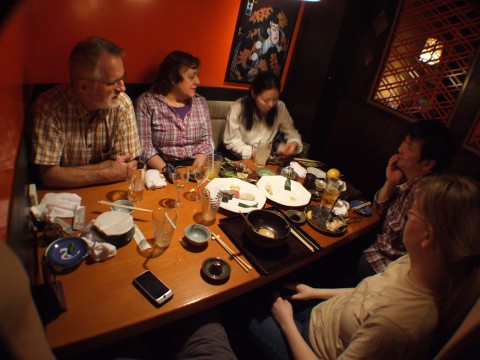 We had very typical japanese food for.. lunch I guess. It made us realize on how much sushi we get in Austria is made to appeal to western people, Thomas was reluctant to try the raw shrimp one… Henrieke didn't touch it. Some of it is very tasty though, once you know what to choose. Afterwards we took the taxi to Tokyo tower, a 332.5 m (1,091 ft) high structure that is loosely based on the Eiffel tower.