So, things didn't go as planned. We went to the airport at 5am after what can be hardly called sleep, checked in and boarded the plane with 20 minutes delay. The forecast predicted snow, and indeed it began snowing harder and harder.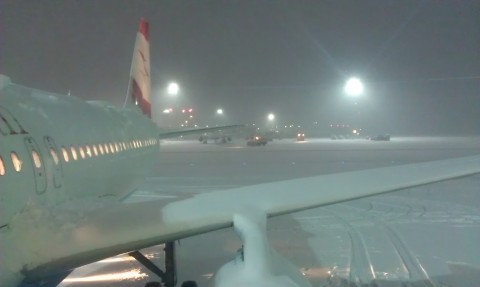 After about 2 hours of waiting in the plane we finally went to the de-icing station, of course we already gave up catching our connecting flight, but at least we got to see the cool device they used for de-icing!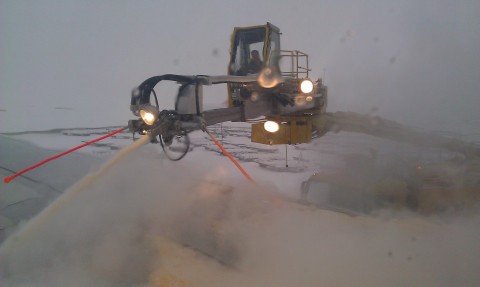 After 4 hours of sitting in a plane on the ground we finally got out. It took the plow around 30 minutes just to roam the space around the plane free so the stairs and the bus could come through. After that the rebooking nightmare started. According to the news, today, 230 of around 350 flights got cancelled, and the endless queue at the service desk definitely reflected that. We weren't sure whether Austrian Airlines, which operated the flight, or AirFrance, where we booked, was the place to go. Eventually we found out where to go, a tiny booth that managed rebookings of KLM, AirFrance and a couple of other airlines. Very hard to find, and I find it very disappointing that AirFrance/KLM outsource their rebooking to another company instead of providing service in Vienna.
The lady at the desk was helpful and nice and got us the same connection the next day. In a bold move I asked for a hotel space since going back home just to go back in a few hours would've been very stressful. We got the last room in the NH Airport hotel, we got very lucky there! Since we missed lunch at the hotel, we ate some McDonalds food on our room and then slept for a few hours.
The hotel was really nice, and the buffet was just WOW! We felt like it made up for all the stress that day and we took the chance to just relax and enjoy good food.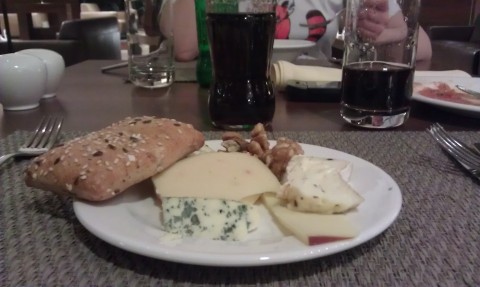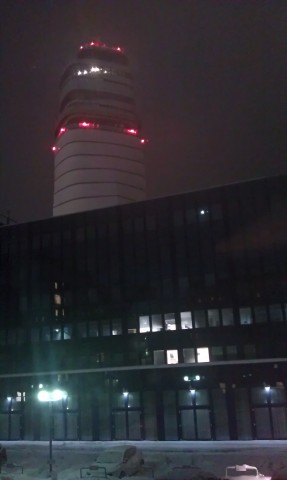 We're going to bed now after watching the news which made us optimistic for the flight tomorrow. There's 30cm of snow here but the airport staff will spend all night removing the snow and the forecast says barely any new snow! Fingers crossed and this time actually well rested we look forward to FC. 🙂