In the morning we went to 2 thrift stores with Chris, I got some neat Hawaii Shirts! Then to Jeffs Place, we also met Robin there. Jeff showed us his workroom and costumes (he builds costumes for a living), then we went off for another thrift store, then to Big!Lots, then to a nice italian restaurant for lunch.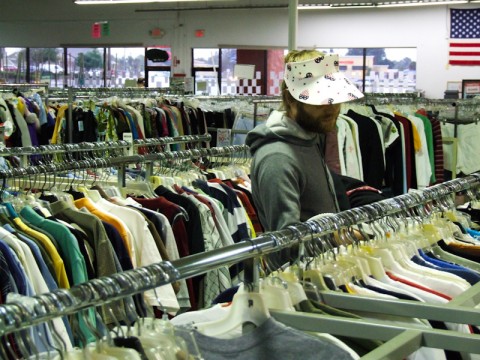 Jeff browsing through an amazing selection of weird shirts.
Back at Jeffs place we hung out, watched stupid YouTube videos, then went back to Chris' place and played some pop'n'music.
I finally got my Camera repaired before Lisa arrived! Watched some videos from the Convention while Chris was preparing Fruity Pebbles Treats, Scott and Tim (from Australia) also came over and we watched the Goofy movie! A really good movie, you need to be into american pop culture though to get it at all.