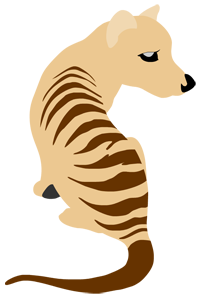 Thylacine
I just finished reading this scientific report about Thylacines, which I actually only got because there were alot of photos and illustrations in there I wanted to use as reference. But now I'm really interrested in Thylacines, so I dedicate a post to them.
Thylacines, also referred to as Tasmanian Tiger or Tasmanian Wolf aren't – as the name would suggest – Canids or Felines. They are actually Marsupials, with the closest still existing relative being the Tasmanian Devil.
I have collected quite much reference pictures and photos of Thylacines for drawing purposes here, but also if you're not trying to draw them you might be interested in them as there are a few rare ones included.
I've drawn alot of Thylacines until now, so here they are (in chronological order, including mostly older artworks):


Thylacine sketches


first try on "realistic" anatomy


A more toony attempt


Also toony, inspired by the mascot of this site


For completeness, I repost this one.


Also this one.


quick Thylacine Sketch in openCanvas


I made this one with a 0.05mm fineliner.. sketch can be seen here


This is a sketch of a Thylacinus potens, using this skeleton as reference. Notice the shorter legs and the smaller head compared to a Thylacinus cynocephalus
Finally, for more information about thylacines, I recommend the following sites:
http://www.tasmanian-tiger.com
http://en.wikipedia.org/wiki/Thylacine
Photographs and movies of the Thylacine