Woke up at 7, again not being able to sleep anymore.
Had another massive breakfast and finally we found Jeff Pidgeon there (Guest of Honor and Pixar Storyboard Artist.
He's a really awesome guy and gave us great sketches of his awesome Character, Happy Beaver.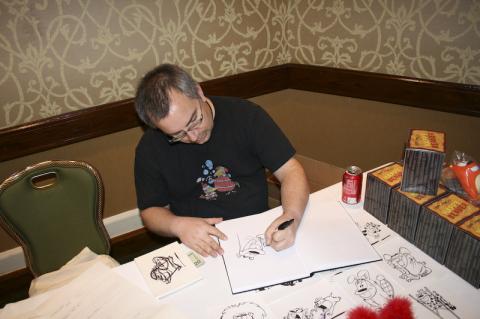 Jeff Pidgeon drawing stuff
The Cover of the Conbook also features artwork by Jeff:
Too bad I had to try to not spend too much money, because the happy beaver figurines he sold were awesome, but at least I got a nice T-shirt.
We also met Brian Reynolds who is also really cool, he was just a bit busy doing sketches.
For dinner we went to the first and biggest Chuck-E-Cheese Restaurant. We were 7 people in one car, with 5 people on the backseats. It was a *bit* tight, but the other 4 were girls so I didn't mind. 😉
The restaurant was kind of… creepy, and you definately won't find anything like that in Europe.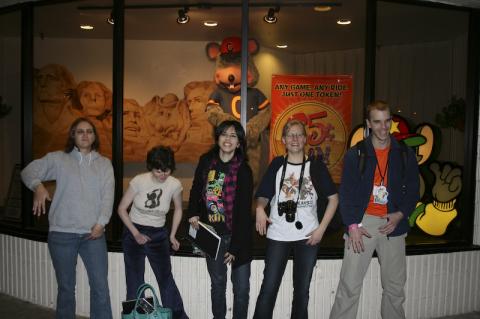 me + some girls in front of Chuck-E-Cheese (note the CREEPY animatronic thing in the back, that was version 1.0)
We had some more or less good pizza, did some drawings and had alot of fun there.
When we came back there were already alot of parties going on at the Hotel, I think about 20 on one floor with a balcony connecting all the rooms. I thought the music taste of U.S. people was bad but I was proven wrong.
Time passed by way too fast, but I was still a bit jetlagged, so sleep was necessary.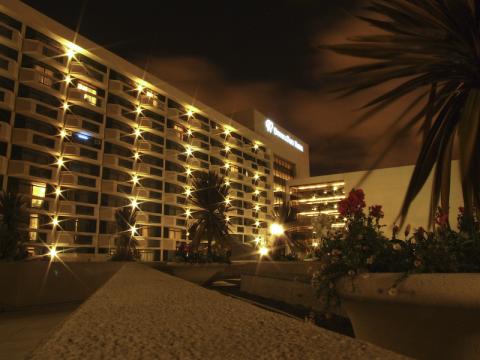 Nighttime at the Hotel