Today it was finally time to go back home! We got up at around 7, put our stuff in the car and saw frost in Florida for the first time. The car was covered in ice, so we had to clear the windshield first and then went to the airport which was a mere 15 minute drive. At the rental car return we met a nice airport employee who brought our bags all the way to the check-in counter and saved us a lot of trouble getting our heavy giant bags through the whole airport. We gave him some tip, checked in, paid 94$ for the extra bag and looked around in the stores a bit. All the theme parks have a store in the airport, even NASA had one! We ended up getting a cute little space shuttle Christmas ornament.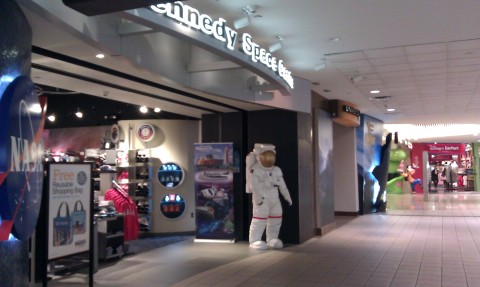 Since we had over 4 hours time, we sat down at Starbucks, had some breakfast and went through our photos. Eventually we went through the TSA screening, got a pat down after objecting to the bodyscanner, got some food and went on the plane to Atlanta.
In Atlanta we had a brief stopover and got to experience the busiest airport on the world for a few minutes. We found a cellphone in the train to our terminal and gave it to the info booth, hopefully the lady has her phone back by now! The rest of the flight was alright, of course way too long.
When we arrived in Vienna, our luggage unfortunately didn't. It took a while to fill our forms at the Lost&Found register, and eventually we got out of the airport where my dad picked us up and brought us home. We had lunch with my parents, then went back to bed to catch up with a lot of needed sleep. Our luggage arrived 10 hours after we arrived and was delivered at our door, so at least we didn't have to carry it.
This concludes the trip report!
Thanks to everyone for hosting us, helping us out, hanging out, drawing for us, showing us around, etc etc.!